Small businesses can often be overwhelmed with the amount of digital information that they have to retain for their business to operate correctly. Over time, the buildup of work documents, project files, client proposals, and employee information can often get out of hand. Which is why a few weeks back we wrote an article called "Organizing Your Office Equipment and Improving Your Work Environment". This article proposed several solutions to maintain a file organization system for small businesses. However in the article we neglected to mention how digital data clutter can be just as hard on the stresses of our everyday job tasks. This is why to keep your office running proficiently it is important to perform routine digital housekeeping.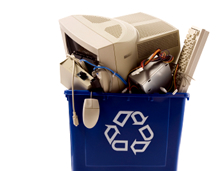 Digital housekeeping is the sorting, organizing, and discarding of old or unused electronic data. There are many elements to this type of cleaning. Although easy to do tasks like emptying your computers recycling bin are a good start there are many more layers that are often overlooked. Digital housekeeping isn't only meant for your computer, it also covers mobile devices and other electronic office equipment. The following list is some suggestions to help you manage your office's digital clutter.
Clearing Your Desktop:
Remove unused shortcuts from your desktop and desktop toolbar.
Keep only important and frequently used programs on your desktop or on the desktop toolbar.
Put the programs that you use occasionally in a desktop folder.
Empty the Recycling Bin.
Cleaning Your Hard Drive:
Routinely perform the defragmentation process. (Start /Programs/ Accessories/ System Tools)
Use Disk Cleanup to search out and remove unused files and folders. (Also in System Tools)
Uninstall unused programs.
(To edit your programs enter the Control Panel, open the Add or Remove Programs function (Windows Vista and 7 "Programs and Features"). When the list of programs populates, select any program that you wish to amend. You can even sort by the last used date or installed date. Follow the uninstall procedures for each individual program and restart your computer if necessary.)
Manager your Startup Folder.
(In order to fine-tune the startup folder you will need to access the system configuration folder. This can be done by expanding the Start menu, Clicking Run and then typing MSCONFIG. (Windows 7 uses the Search application instead of RUN.) Once the Configuration window appears click the Startup tab and carefully select the programs that you are positive that you do not need for startup.)
Updating and Using Malware:
Use programs like McAfee Protection Software or Norton Security Essentials to identify and eliminate threats that can cause your equipment to run slower.
Keep windows up-to-date using Windows Automatic Update.
Organizing Your Media Content:
Delete duplicate file or files no longer being used.
Keep the different types of media grouped together in separate folders.
Create sub folders for extra organization and navigation.
Cleaning Your Internet Browser:
Access your internet options to clear history and cache.
Delete unused bookmarks.
Add bookmark folders for easier navigation.
Organizing Email:
Delete junk mail, outdated emails, sent mail, and old drafts.
Create sub folders for emails so they don't build up in your inbox.
Establish rules in Microsoft Outlook so that emails are automatically delivered to the correct subfolder.
Managing Your Smartphone:
Remove unused photos, movies, or music files.
Delete unused applications.
Clear out old notes in the text editor.
Clear browsing history and map locations.
Delete old and unneeded emails.
Cleaning and Disposing of Electronic Devices:
Computers and external equipment should be cleaned routinely in order to prevent unnecessary problems caused by dust.
Clean the area surrounding the device before cleaning it.
Always spray the cleaning solutions on a rag first. Never apply directly to the electronic device.
Avoid throwing out electronics with your everyday garbage.
If you are getting an upgrade or newer model, donate or sell your old device.
Shop with companies that use a "Take Back" program.
Make it a priority to shop with companies with "Green Principals"
Locate local e-waste recycling and disposal centers.
It is important to make a routine time to clean up your office's digital clutter. Letting electronic data overwhelm your office will often only make it more difficult to focus, locate important information, and much more difficult clearing it away in the future.
Thanks for Reading!
Dustin